Suede loafers for men by ETQ: the ultimate wardrobe essential for the stylish man
In the world of men's shoes, suede loafers are a symbol of timeless elegance and sophistication. At ETQ we combine this classic design with our signature minimalist design and unparalleled quality. Our loafers are not just any shoes; they are a statement of style, craftsmanship and passion. Made for the modern man who values both aesthetics and functionality.
Our smart suede loafers for men are more than just a fashion item; they are an essential part of any wardrobe. They are the result of our commitment to perfection, from the first design to the last stitch. And with our focus on sustainability and ethical production, they're a choice you can be proud of.
In this article we dive deeper into the world of our suede slip on shoes. We will cover a number of subtopics:
Men's loafers: the epitome of ETQ's pursuit of perfection
In the world of shoe design and manufacturing, perfection is a goal that few really achieve. At ETQ, however, this pursuit of perfection is at the heart of everything we do. Our men's loafers are tangible proof of this dedication.
Every loafer that leaves our workshop is the result of hours of craftsmanship, attention to detail and an unwavering commitment to quality.
Our approach to design
Our design process starts with a simple question: what makes a loafer perfect? The answer is a combination of aesthetics, comfort and durability. We opt for a minimalistic design, which makes our men's loafers both stylish and timeless.
Top quality materials
The choice of materials is crucial. We only use the finest suede, which provides a soft, luxurious look and feel. Our loafers are not only a pleasure to wear, but also to look at.
Handmade with care
Each ETQ loafer is handmade by our artisans in Portugal. This handmade process ensures that every pair of shoes meets our high standards of quality and workmanship. It's this dedication to craftsmanship that sets our men's loafers apart from the rest.
The finish
The last steps in the production process are just as important as the first. The finish of our loafers is what gives them their signature ETQ look. From the subtle stitching to the carefully placed logos, every detail is a reflection of our commitment to perfection.
Suede loafers: a timeless choice for every occasion
The power of a good pair of shoes lies in its versatility. Our men's suede loafers are the perfect example of this versatility. They are designed to go with any outfit and any occasion, making them an essential part of any stylish man's wardrobe.
Why suede?
Suede is a material that exudes luxury and comfort. It has a unique texture that feels soft and looks elegant. At ETQ we consciously choose suede because of its timeless appearance and durable qualities. Our suede slip-on shoes are an investment in style and quality.
The versatility of suede loafers
Whether it's a formal occasion, a casual day out or a night out with friends, our suede loafers are the perfect fit. They can be paired with a suit for a formal look, or with jeans for a more casual look. The possibilities are endless.
ETQ's approach to design
We believe in creating shoes that are both functional and stylish. Our suede loafers are the result of this philosophy. They are minimalist, yet striking, and made with attention to every detail.
Style tips for wearing suede slip-on shoes
To get the most out of your ETQ suede loafers, we recommend pairing them with neutral colors for a streamlined look. Avoid wearing them in wet weather to protect the suede and be sure to take care of them regularly to keep them looking their best.
The anatomy of an ETQ men's loafer: what makes our loafers so special?
Each product has its own story, and our smart men's loafers are no exception. Behind the seemingly simple design lies a world of craftsmanship, innovation and passion. Let's discover the unique elements of our suede loafers.
Design Philosophy
At ETQ we believe in the principle of 'less is more'. Our design philosophy focuses on creating shoes that are simple, elegant and timeless. We avoid superfluous details and focus on what really matters: quality, comfort and style.
The construction of the loafer
The construction of our men's loafers is a careful process. From the choice of suede to the placement of each stitch, every detail has been considered. The sole, footbed and liner are all designed to provide maximum comfort, while the overall silhouette hugs the foot naturally.
Handmade perfection
Our suede loafers are handmade by craftsmen in Portugal. This traditional method ensures unparalleled quality and durability. Each slip-on shoe is a testament to our pursuit of perfection and our passion for shoemaking.
The finishing touch
The last details make the difference. Finished with subtle branding, our loafers have a minimalist look synonymous with the ETQ brand. They are not only a fashion item, but also an expression of our dedication to craftsmanship and design.
The essence of suede: why ETQ chooses this luxurious type of leather
Suede has been a favorite choice for shoemakers and fashion-conscious individuals for centuries. It has an unmistakable charm and elegance that sets it apart from other leathers. But what makes suede so special and why is it ETQ's choice for our men's loafers?
The unique texture of suede
Suede is known for its soft, velvety texture. This unique texture gives our loafers a luxurious look and feel. In addition, suede offers a comfort that is difficult to match with other materials. It adapts to the shape of the foot and offers breathable comfort that is ideal for all seasons.
Aesthetics and functionality
In addition to the aesthetic benefits, suede also offers functional benefits. It is durable, flexible and has natural insulating properties. This makes our smart suede loafers perfect for both warm and cool climates.
ETQ's commitment to quality
Our choice of suede is a reflection of our commitment to quality. We select only the best suede for our shoes, sourced responsibly. Our craftsmen treat this material with the utmost care, making every pair of shoes we produce a masterpiece in itself.
The colors of suede
Suede comes in a wide variety of colors, making it a versatile choice for shoe design. At ETQ, we opt for neutral and earthy tones that reflect our brand's minimalist aesthetic while adding a touch of elegance to any outfit.
Step by step: the production of a men's slip-on shoe
The creation of an ETQ slip-on shoe is a journey that starts with selecting the perfect suede and ends with the final finishing touches. This journey is a combination of traditional craftsmanship and modern techniques, resulting in a product of unparalleled quality.
The selection of materials
Each ETQ slip-on starts with the selection of the best suede. We choose suede that is soft, durable and of the highest quality. This ensures that our shoes are not only comfortable, but also last a long time.
Handmade in Portugal
Our loafers are handmade by craftsmen in Portugal. These artisans have years of experience and a deep passion for their craft. Each shoe is made with care and precision, checking every detail to ensure it meets our high standards.
The construction
The construction of a slip-on is a complex process that requires craftsmanship and attention to detail. From cutting the suede to stitching the sole, every step is carefully executed to ensure a perfect fit and finish.
The finish
After the construction comes the finishing. Our loafers are finished with subtle details that set them apart from other shoes on the market. Whether it's the ETQ logo or the unique color of the suede, every detail is a reflection of our commitment to quality and design.
The psychology of color: why loafers come in different shades
Color plays a crucial role in the world of fashion and design. It can evoke emotions, tell a story and even change our perception of a product. At ETQ we understand the power of color and use this knowledge in our collection of men's loafers.
The meaning behind colors
Each color has its own unique meaning and psychological impact. Neutral and earthy tones, such as the colors of our suede loafers, often exude calm, reliability and timelessness. They are versatile and can be easily combined with different outfits, making them a favorite choice for many men.
The choice for beige
Beige is one of the most popular colors in our collection. It is a color that feels both classic and modern. Beige loafers are not only stylish, but also practical. They can be worn with both casual and formal outfits, making them a true wardrobe essential.
ETQ's approach to color
We choose our colors carefully, with the modern man in mind. Our goal is to create shoes that are both stylish and functional. By choosing timeless shades, we ensure that our smart slip on shoes remain relevant for years to come, regardless of changing fashion trends.
Color and quality hand in hand
In addition to aesthetics, color is also an indication of the quality of the suede. We make sure our colors are rich and vibrant, reflecting the high quality material we use for our loafers.
Beige: the versatility of a neutral shade
Beige is more than just a color; it is a symbol of sophistication, versatility and timeless elegance. In the world of fashion and design, beige is known as one of the most versatile and loved colours. At ETQ, we've embraced this hue in our collection of beige suede loafers for men, and here's why.
Beige in fashion
Beige has always had a prominent place in the fashion world. It is a color that blends effortlessly with other shades, making it an ideal choice for footwear. Our beige loafers are a perfect example of how this color can be used to make a stylish yet understated statement.
Combine with beige
The strength of beige lies in its versatility. Whether you choose casual jeans or formal trousers, our beige loafers fit perfectly. They add a touch of elegance to any outfit and make it easy to look stylish at any time of the day.
Beige at ETQ
Our commitment to quality and design is reflected in our choice of beige. We only use the best suede to ensure that our beige loafers are not only beautiful, but also durable. Each shoe is made with care, perfecting every detail to create a product truly worthy of ETQ.
The timelessness of beige
Fashion changes, but some things always stay in style. Beige is one of those things. It is a color that never goes out of style and always remains relevant, regardless of the prevailing trends. This makes it an essential addition to any stylish man's wardrobe.
Slip-on shoes as the ultimate men's wardrobe essential: how they complement any outfit
Every man needs basic pieces in his wardrobe that are both stylish and functional. Our suede loafers for men are just that: a combination of elegant design and practicality, making them an essential item for any style-conscious man.
From casual to formal
The strength of our loafers lies in their versatility. Whether you're having a casual brunch with friends or an important business meeting, our smart loafers fit seamlessly. They add a touch of class to any outfit and make sure you always look your best.
The minimalist charm
What really sets our loafers apart is their minimalist design. They are free of unnecessary frills and embellishments, which gives them a timeless look. This minimalist design also means that they are easy to combine with a wide range of outfits, from jeans to tailored suits.
ETQ's vision of essential garments
We believe fashion doesn't have to be complicated. With a few well-chosen pieces, you can effortlessly create stylish and cohesive looks. Our men's suede loafers are a perfect example of this philosophy. They are designed to complement your wardrobe, not dominate it.
Investing in quality
Fashion is not only about how something looks, but also about how it feels and how long it lasts. By investing in high-quality loafers, like ours, you ensure that you stay stylish not only now, but also in the future.
Men's loafers through the seasons: style tips for every moment
Fashion is constantly changing, but some pieces remain timeless. Our men's suede loafers are one such piece. They are designed to accompany you through every season, always with style and elegance.
Spring and summer
When temperatures rise, men look for comfort without sacrificing style. Our loafers are the perfect choice for warmer months. Combined with light chinos or shorts, they offer a fresh and stylish look that is perfect for both casual and formal occasions.
If you want an extra summery look, choose the most summery loafers from our collection: men's espadrilles.
The autumn look
When the leaves fall and the air gets cooler, the seasons call for warmer tones and layered outfits. Our suede slip on shoes in rich earth tones are the perfect addition to your fall wardrobe, adding a touch of warmth and elegance to any outfit. 
Winter elegance
The colder months are all about comfort and warmth, but that doesn't mean you have to sacrifice style. Our loafers combined with wool trousers and heavy coats create a stylish yet cozy winter look.
For the best winter look, choose a high slip-on shoe from our men's desert boots collection .
ETQ's view on seasonal style
We believe that true style is timeless. Our men's smart suede loafers are designed to not only meet the demands of every season, but also help you express your own unique style whatever the weather. They are a testament to our commitment to quality, design and timeless elegance.
Care tips for suede loafers: taking care of quality
Investing in high-quality footwear like our suede loafers also means taking care of that investment. Proper maintenance not only extends the life of your loafers, but also ensures that they always look their best.
Clean and protect
Dust and dirt can damage suede. Regular brushing with a suede brush will keep your loafers clean and fresh. For deeper stains, a specialist suede cleaner is essential. After cleaning it is important to protect your loafers with a water and dirt repellent spray.
Storage and shape retention
When you're not wearing your loafers, store them in a cool, dry place out of direct sunlight. Use shoe trees to maintain shape and minimize any creases or creases.
Prevention is better than cure
While our suede loafers are designed to be durable and robust, avoiding puddles and mud is the best way to keep them in top condition. If they do get wet, let them dry naturally away from direct heat sources.
ETQ's commitment to quality
Our dedication doesn't stop with the design and production of our shoes. We want you to enjoy your purchase for as long as possible. By taking good care of your suede slip-on shoes, you ensure that they remain a stylish addition to your wardrobe for years to come.
Men's Loafers FAQ
In this section we answer some of the most frequently asked questions about men's loafers, from style tips to the latest trends. Here are the answers to questions we often get from customers about loafers:
Why loafers?
Loafers combine comfort with elegance. They are easy to put on and take off, versatile for different occasions and offer a stylish alternative to traditional lace-ups.
What are the best men's loafers?
The best loafers are made of high-quality materials such as suede, have a comfortable fit and a timeless design that goes with different outfits.
How to wear men's loafers?
Loafers can be both formal and approx to be worn. Combine them with a suit for a business look or with chinos and a polo for a relaxed look.
What loafers are in?
Minimalist designs and neutral colors such as beige and gray are currently popular. Loafers with a clean line and subtle details are always in fashion.
What do you wear in loafers?
Loafers can be worn with or without socks. For a formal look, choose thin socks, while for a casual summer look, you can wear them without socks.
| | | | |
| --- | --- | --- | --- |
| EU | US | UK | CM |
| 36 | 3 | 2 | 23.8 |
| 37 | 4 | 3 | 24.4 |
| 38 | 5 | 4 | 25.1 |
| 39 | 6 | 5 | 25.7 |
| 40 | 7 | 6 | 26.4 |
| 41 | 8 | 7 | 27.0 |
| 42 | 9 | 8 | 27.7 |
| 43 | 10 | 9 | 28.3 |
| 44 | 11 | 10 | 28.9 |
| 45 | 12 | 11 | 29.6 |
| 46 | 13 | 12 | 30.2 |
| 47 | 14 | 13 | 30.9 |
How to measure
Let's find your perfect fit. Place a sheet of paper on the floor against the wall and put your feet (with socks) on it, heels against the wall. Make sure you lean on your feet with full power when measuring. Now you simply draw a line at the end of the biggest foot. Measure the distance with a ruler and find the size that matches it: see size table. Are you in between sizes? In that case, we suggest taking the bigger size.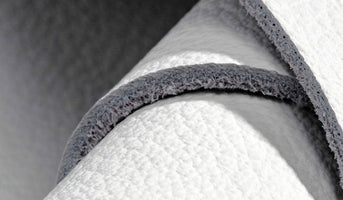 Mediterranean Suede
Refined in style, matt in color. The ultra-soft suede leather is sanded and feels velvety soft. It is crafted from the inside layer of the leather hide. ETQ's suedes are always characteristic. 

Premium Suede
Experience unparalleled luxury with our Premium Suede collection. Crafted from the finest, most luxurious suede available. We've meticulously selected the highest quality suede. Each step feels like a caress, thanks to the unmatched softness and exceptional craftsmanship. Our Premium Suede shoes redefine what it means to walk in ultimate comfort.
Nappa Leather
Indulge in the epitome of luxurious comfort with our Premium Nappa Leather collection. Renowned for its buttery-soft texture and distinct natural grain, Nappa leather offers an unmatched tactile experience. Crafted with meticulous care, this leather remains unaltered by sanding, ensuring its strength and integrity are preserved. Each step you take in our Premium Nappa leather shoes is a testament to our dedication to exceptional craftsmanship. Walk with confidence, knowing that the unique structure of Nappa leather speaks to the unparalleled quality and sophistication of your choice.
Nubuck Leather
Premium nubuck: best of the best. Exclusive leather that we sanded rough on the outside grain part of the hide, giving it a velvety butter soft surface. It offers utmost suppleness. The leather is metal-free, biodegradable and has excellent breathability.
Full Grain Leather
Our commitment to excellence is embodied in our Full Grain Leather collection. Uncompromising in quality, this leather remains untouched by sanding, buffing, or snuffing, preserving its natural strength and integrity. Just like the intricate patterns on your own skin, the grains on our Full Grain Leather are a testament to its authenticity. Immerse yourself in the richness of Full Grain Leather – a testament to the artistry of leather craftsmanship.