Minimalistic premium leather shoes for men
In the world of fashion, minimalism has always been a point of fascination. It's about distilling the essence of an item to its purest form, removing unnecessary elements until what's left is only what truly matters. This is the philosophy that drives ETQ Amsterdam, a premium men's footwear brand, to produce high-quality minimalist shoes, including sneakers, loafers, and sandals, made with the finest leather.

ETQ shoes are for the discerning man who values simplicity, quality, and timeless design. Their ethos of "less but better" permeates every aspect of the brand, from the selection of the finest leathers to the meticulous attention to detail in each stitch, seam, and silhouette. Each shoe is a testament to the harmonious blend of form and function, delivering a refined aesthetic without sacrificing comfort.

Sneakers are not just for the gym or the basketball court anymore. With the evolution of men's fashion, sneakers have become a staple in every man's wardrobe, not just for their comfort but for their versatility as well. ETQ's minimalist leather sneakers are the epitome of this trend. They sport a sleek, unadorned design that pairs seamlessly with a range of outfits, from casual jeans to more formal attire. The premium leather gives them a luxurious feel while ensuring they are durable and long-lasting.

ETQ's loafers embody the brand's commitment to understated elegance. These shoes are devoid of unnecessary embellishments, focusing instead on the beauty of their material and the precision of their construction. ETQ loafers are crafted from premium leather that molds to the wearer's foot over time, creating a personalized fit that enhances comfort. They're perfect for the man who values a smart, clean look.

For the warmer months, you can go for the white sneakers of ETQ and ETQ's leather sandals are the ideal blend of casual and chic. They are the epitome of minimalist design, with a simple yet stylish profile that doesn't compromise on comfort. The use of premium leather ensures a soft, comfortable fit and a quality feel. These sandals are perfect for summer strolls, beach visits, or just lounging around.

What sets ETQ Amsterdam apart from other brands is the meticulous care and attention to detail that goes into each shoe. The use of premium leather ensures not only a stylish appearance but also an incredibly comfortable fit. Each pair is crafted with a commitment to durability, ensuring they will stand the test of time.

ETQ shoes are more than just footwear; they're an investment in style and quality. They're designed for men who appreciate the beauty of simplicity and the value of quality craftsmanship. Each pair is a testament to the brand's commitment to creating footwear that is both elegant and functional, with a minimalist design that transcends fleeting fashion trends.

In a world where mass production often sacrifices quality for quantity, ETQ Amsterdam stands out as a beacon of dedication to craftsmanship and quality. Their high-quality minimalist shoes, made from premium leather, are the embodiment of this commitment. Whether you're in the market for sleek sneakers, elegant loafers, or stylish sandals, ETQ has a pair of shoes that will meet your needs and exceed your expectations.

ETQ Amsterdam is not just a shoe brand; it's a lifestyle. It's for the modern man who appreciates the subtle details, the quiet luxury, and the enduring style that comes from a well-made, minimalistic shoe. When you choose ETQ, you're choosing quality, style, and a commitment to the art of minimalism.
| | | | |
| --- | --- | --- | --- |
| EU | US | UK | CM |
| 36 | 3 | 2 | 23.8 |
| 37 | 4 | 3 | 24.4 |
| 38 | 5 | 4 | 25.1 |
| 39 | 6 | 5 | 25.7 |
| 40 | 7 | 6 | 26.4 |
| 41 | 8 | 7 | 27.0 |
| 42 | 9 | 8 | 27.7 |
| 43 | 10 | 9 | 28.3 |
| 44 | 11 | 10 | 28.9 |
| 45 | 12 | 11 | 29.6 |
| 46 | 13 | 12 | 30.2 |
| 47 | 14 | 13 | 30.9 |
How to measure
Let's find your perfect fit. Place a sheet of paper on the floor against the wall and put your feet (with socks) on it, heels against the wall. Make sure you lean on your feet with full power when measuring. Now you simply draw a line at the end of the biggest foot. Measure the distance with a ruler and find the size that matches it: see size table. Are you in between sizes? In that case, we suggest taking the bigger size.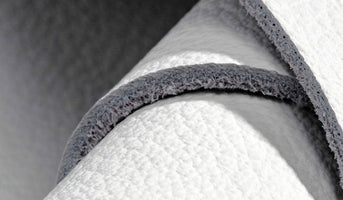 Mediterranean Suede
Refined in style, matt in color. The ultra-soft suede leather is sanded and feels velvety soft. It is crafted from the inside layer of the leather hide. ETQ's suedes are always characteristic. 

Premium Suede
Experience unparalleled luxury with our Premium Suede collection. Crafted from the finest, most luxurious suede available. We've meticulously selected the highest quality suede. Each step feels like a caress, thanks to the unmatched softness and exceptional craftsmanship. Our Premium Suede shoes redefine what it means to walk in ultimate comfort.
Nappa Leather
Indulge in the epitome of luxurious comfort with our Premium Nappa Leather collection. Renowned for its buttery-soft texture and distinct natural grain, Nappa leather offers an unmatched tactile experience. Crafted with meticulous care, this leather remains unaltered by sanding, ensuring its strength and integrity are preserved. Each step you take in our Premium Nappa leather shoes is a testament to our dedication to exceptional craftsmanship. Walk with confidence, knowing that the unique structure of Nappa leather speaks to the unparalleled quality and sophistication of your choice.
Nubuck Leather
Premium nubuck: best of the best. Exclusive leather that we sanded rough on the outside grain part of the hide, giving it a velvety butter soft surface. It offers utmost suppleness. The leather is metal-free, biodegradable and has excellent breathability.
Full Grain Leather
Our commitment to excellence is embodied in our Full Grain Leather collection. Uncompromising in quality, this leather remains untouched by sanding, buffing, or snuffing, preserving its natural strength and integrity. Just like the intricate patterns on your own skin, the grains on our Full Grain Leather are a testament to its authenticity. Immerse yourself in the richness of Full Grain Leather – a testament to the artistry of leather craftsmanship.