White Sneakers for Men: The Essence of Stylish Simplicity
In the world of fashion, there are certain pieces that withstand the test of time. Our sleek white sneakers for men are a perfect example of this. These sporty shoes, designed in the heart of Amsterdam, exude a minimalist elegance suitable for any outfit and occasion. Focusing on high-quality leathers like full-grain, suede, and nappa, we combine craftsmanship with style. Our men's sneakers are not just sports shoes; they are a statement of timeless class.
In this article, we delve deeper into the versatile world of luxury white trainers for men. We'll cover several subtopics:
The Philosophy Behind ETQ's Minimalist Design
In the bustling world of fashion, it's often hard to maintain a unique identity. At ETQ, we believe in simplicity as the ultimate form of sophistication. Our white sneakers for men embody this philosophy. They're not just a fashion item, but an expression of a lifestyle that values quality over quantity.
Our minimalist design isn't just an aesthetic choice but also reflects our values and beliefs.
Less is More
This famous phrase summarizes our approach to design. Instead of opting for flashy adornments, we focus on the essentials. Our white leather sneakers are a prime example of this approach, where every detail is carefully considered to create a timeless and versatile product.
Functionality and Style
Our designs are not just stylish, but also functional. We believe that good design should be both beautiful and practical. Our sleek white sneakers for men are designed to last, both in terms of durability and style.
The Power of Simplicity
Simplicity is not the absence of complexity, but the ability to transcend it. Our minimalist approach allows us to create products that are both simple and sophisticated, making them perfect for the modern man seeking quality and style.
The importance of a strong silhouette in shoe design
When one thinks of iconic fashion items, the silhouette often stands out first. A strong and recognizable silhouette can distinguish a product from the masses. At ETQ, the silhouette of every white sneaker is meticulously designed to be both modern and timeless.
But what makes a silhouette strong and why is it so important in shoe design?
The power of recognition
A strong silhouette allows for immediate recognition. When someone sees our white leather sneakers, they should immediately think of ETQ. This level of brand recognition is vital in the competitive world of fashion, where brands vie for consumer attention.
Functionality meets aesthetics
Beyond aesthetics, the silhouette also plays a pivotal role in the functionality of the sneaker. A well-designed silhouette ensures comfort and support while also enhancing the shoe's overall appearance. Our sleek white sneakers for men seamlessly combine these two aspects, resulting in a shoe that is both stylish and comfortable.
The timelessness of simplicity
Fashion changes, but style is eternal. By opting for a simple and strong silhouette, we ensure that our sneakers remain relevant, season after season. It's this dedication to timeless design that makes our white sneaker for men a wardrobe essential.
How Amsterdam's elegance influences ETQ's designs
Amsterdam, with its rich history and unique urban aesthetic, has always held a special place in our hearts. The city is not just our home but also a constant source of inspiration. Our white sneakers for men are infused with the spirit and elegance of this beautiful city.
The fusion of old and new
Walking through the streets of Amsterdam, one is struck by the harmonious blend of historic architecture and modern design elements. This fusion of old and new is reflected in an ETQ white leather sneaker. While we utilize modern design principles and techniques, we remain loyal to timeless aesthetics and craftsmanship.
Minimalism: the Amsterdam way
Amsterdam is known for its minimalist design ethos. From the sleek lines of canal houses to the understated elegance of urban furniture, there is a clear emphasis on functionality and form. Our white sneakers for men embody this ethos, where every detail is meticulously considered, and nothing is superfluous.
The spirit of freedom
Amsterdam has always been a city of free thinkers, and this spirit of freedom and individuality is deeply embedded in our designs. Our sneakers are not just a fashion item, but also an expression of personal style and self-expression. Just as Amsterdam continually reinvents itself, we aim to create products that are both innovative and true to our roots.
The choice of high-quality leathers: full-grain, suede, and nappa
The choice of the right material is crucial in creating a product that is both stylish and durable while also feeling luxurious. At ETQ, we consciously opt for high-quality leathers for our luxury white sneakers for men. This choice reflects our commitment to quality and craftsmanship.
Full-grain leather: the king of durability
Full-grain leather is renowned for its strength and durability. It's the topmost part of the skin and retains the natural texture. Our white leather sneakers made from full-grain leather are not only robust but also breathable, making them perfect for daily wear.
Suede: soft and stylish
Suede, derived from the underside of the skin, is known for its soft texture and velvety appearance. It gives our white sneakers for men a luxurious look and a comfortable feel with every step.
Nappa: the ultimate refinement
Nappa leather, known for its softness and suppleness, is one of the most luxurious types of leather. It is often found in high-end fashion items due to its smooth finish. Our white trainers made of nappa leather offer a perfect combination of comfort and class.
By opting for these high-quality leathers, we not only ensure the durability of our sneakers but also their timeless beauty. It's this commitment to quality that sets our sneakers apart in a sea of mass production.
The craftsmanship: handmade in Portugal
True craftsmanship is rare in a world increasingly focused on mass production. At ETQ, we value the skills and dedication of real craftsmen. Our white sneakers for men are a testament to this craftsmanship, meticulously handmade by skilled artisans in Portugal.
The Value of Handmade
Every handmade white leather sneaker tells a story of dedication, precision, and passion. Unlike machine-made products, each handmade shoe has its own unique character. This results in a personal touch that simply cannot be replicated by machines.
Portuguese Tradition and Expertise
Portugal is renowned for its rich tradition in leatherwork and shoemaking. By basing our production there, we benefit from generations of knowledge and experience. Our white leather sneakers for men are not just stylish, but also of unparalleled quality, thanks to Portuguese expertise.
More than just a product
When you wear a pair of our white trainers, you're wearing more than just a fashion item. You're wearing a piece of history, a tale of craftsmanship and tradition. It's this deep appreciation for the craft that drives us to create products that are both beautiful and durable.
Why White Sneakers are Timeless Wardrobe Essentials
In the fast-changing world of fashion, there are some items that withstand the test of time. A white leather sneaker is one such item. White sporty shoes aren't just a style statement but also a symbol of versatility and timeless elegance.
From Casual to Formal
The strength of our white leather sneakers lies in their versatility. Whether you're going for a casual jeans and T-shirt or a more formal ensemble, our sneakers fit seamlessly. They provide a solid foundation for any outfit, making them an indispensable item in any wardrobe.
The Timelessness of Simplicity
Fashion changes, but simplicity always stays in vogue. A white sneaker, with its minimalist design and high-quality materials, transcends trends and seasons. It embodies our belief that true style is eternal.
Investing in Quality
Fashion is not just about looks, but also about quality, about luxury. By investing in a pair of high-quality sleek white trainers, you're investing in a product that will last for years. It's this commitment to quality and durability that makes our luxury sneakers an essential part of any wardrobe.
How ETQ's White Sneakers Anchor Outfits and Occasions
Every piece of clothing in a wardrobe has its own story and purpose. Our white sneakers for men are designed to not just tell a story but also to anchor outfits and occasions, making them a central and indispensable part of every look.
The Power of a Strong Foundation
Just like a building needs a strong foundation, every outfit needs a solid base. A white sneaker from ETQ provides just that. It offers a neutral but striking element that brings every look together, whether it's casual, business, or festive.
From Day to Night
The versatility of our luxury white men's leather sneakers makes them perfect for any occasion. Whether you have a day at the office, a night out with friends, or a special occasion, a white ETQ sneaker effortlessly adapts, ensuring you always look your best.
More than Just Shoes
Our white trainers are more than just shoes. They're an extension of you, an expression of your personal style and values. By choosing ETQ, you're opting for quality, durability, and timeless elegance. It's this philosophy that makes our sneakers the perfect choice for every outfit and occasion.
Manners Matter: The Etiquette of Wearing White Sneakers
In the world of fashion and style, there are unwritten rules and etiquettes that distinguish the true connoisseur from the crowd. The classic and sporty sleek white sneaker for men also comes with its own set of do's and don'ts. At ETQ, we believe that knowing and understanding these etiquettes is essential to get the most out of our products.
When and Where
A sleek white sneaker is versatile, but it's important to know when and where to wear them. While they're perfect for casual occasions and weekend outings, they can also be worn at more formal events if styled correctly. Knowing the boundaries and playing within them is key.
Pairing with Outfits
Our white leather sneakers for men can be paired with a wide range of outfits. From jeans to chinos and even with a suit, the possibilities are endless. However, it's important to balance the colors and textures to create a harmonious look.
Black is also a color that can be paired with a versatility of outfits. At ETQ, we also have a collection of black sneakers for men that might appeal to those looking for a different shade.
Caring for Your Sneakers
A white sneaker demands care and attention. Regular cleaning and maintenance ensure that they remain pristine and stylish. At ETQ, we provide guidance and products to help you take the best care of your sneakers. This is our commitment to ensuring that our customers enjoy their product for years to come.
Shop ETQ's White Sneakers Today
At ETQ, we're proud of our collection of white leather sneakers for men. Our shoes are not just a product, but a statement of our values, commitment, and dedication to quality and style. Explore our range today and experience the luxury of handcrafted Portuguese craftsmanship and design.
Discover our full collection of sleek men's sneakers and find the perfect pair to complement your style.
Contact Us
If you have any questions or require further information about our products, please do not hesitate to contact us. Our dedicated team is always here to help and guide you through your ETQ journey.
| | | | |
| --- | --- | --- | --- |
| EU | US | UK | CM |
| 36 | 3 | 2 | 23.8 |
| 37 | 4 | 3 | 24.4 |
| 38 | 5 | 4 | 25.1 |
| 39 | 6 | 5 | 25.7 |
| 40 | 7 | 6 | 26.4 |
| 41 | 8 | 7 | 27.0 |
| 42 | 9 | 8 | 27.7 |
| 43 | 10 | 9 | 28.3 |
| 44 | 11 | 10 | 28.9 |
| 45 | 12 | 11 | 29.6 |
| 46 | 13 | 12 | 30.2 |
| 47 | 14 | 13 | 30.9 |
How to measure
Let's find your perfect fit. Place a sheet of paper on the floor against the wall and put your feet (with socks) on it, heels against the wall. Make sure you lean on your feet with full power when measuring. Now you simply draw a line at the end of the biggest foot. Measure the distance with a ruler and find the size that matches it: see size table. Are you in between sizes? In that case, we suggest taking the bigger size.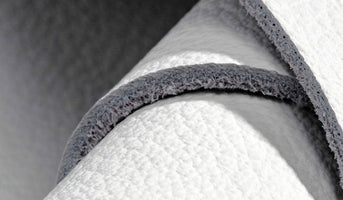 Mediterranean Suede
Refined in style, matt in color. The ultra-soft suede leather is sanded and feels velvety soft. It is crafted from the inside layer of the leather hide. ETQ's suedes are always characteristic. 

Premium Suede
Experience unparalleled luxury with our Premium Suede collection. Crafted from the finest, most luxurious suede available. We've meticulously selected the highest quality suede. Each step feels like a caress, thanks to the unmatched softness and exceptional craftsmanship. Our Premium Suede shoes redefine what it means to walk in ultimate comfort.
Nappa Leather
Indulge in the epitome of luxurious comfort with our Premium Nappa Leather collection. Renowned for its buttery-soft texture and distinct natural grain, Nappa leather offers an unmatched tactile experience. Crafted with meticulous care, this leather remains unaltered by sanding, ensuring its strength and integrity are preserved. Each step you take in our Premium Nappa leather shoes is a testament to our dedication to exceptional craftsmanship. Walk with confidence, knowing that the unique structure of Nappa leather speaks to the unparalleled quality and sophistication of your choice.
Nubuck Leather
Premium nubuck: best of the best. Exclusive leather that we sanded rough on the outside grain part of the hide, giving it a velvety butter soft surface. It offers utmost suppleness. The leather is metal-free, biodegradable and has excellent breathability.
Full Grain Leather
Our commitment to excellence is embodied in our Full Grain Leather collection. Uncompromising in quality, this leather remains untouched by sanding, buffing, or snuffing, preserving its natural strength and integrity. Just like the intricate patterns on your own skin, the grains on our Full Grain Leather are a testament to its authenticity. Immerse yourself in the richness of Full Grain Leather – a testament to the artistry of leather craftsmanship.