Neat men's leather sneakers - Where ETQ's minimalistic design and quality come together
In the world of men shoes, sneakers have become an indispensable item. But not just any sneaker meets the high demands of the modern man. Our smart men's leather sneakers combine the best of both worlds: the comfort of a sports shoe and the elegance of a smart shoe. With a focus on minimalist design and high-quality materials, such as full-grain leather, nappa and suede, we redefine luxury.
Our trainers are more than just a fashion item. They are an expression of our commitment to quality, craftsmanship and style. From the design in Amsterdam to the handmade finish in Portugal, every detail has been carefully considered.
In this extensive article we dive deeper into the world of our luxury leather sneakers. We will cover several subtopics:
The essence of ETQ's minimalist men's sneakers: less is more
In today's world of excess and complexity, we consciously opt for simplicity. Our minimalist sneakers for men embody this philosophy. They are the result of a careful design process where every detail counts, but superfluous elements are omitted.
This approach is not only an aesthetic choice, but also a functional one. By focusing on the essentials, we create sporty men's shoes that are both stylish and comfortable.
Why minimalism?
Minimalism is about valuing quality over quantity. Instead of opting for flashy designs and superfluous details, we focus on what really matters. The result is a neat sneaker that is timeless, one that remains relevant season after season.
The power of simplicity
Our minimalist approach doesn't mean we compromise on quality or comfort. On the contrary, by focusing on the essentials, we can optimize every aspect of our trainers. From the choice of leather to the finish, every detail has been carefully considered.
Design meets functionality
Our smart sneakers for men are designed not only to look good, but also to perform. They are made for the modern man who appreciates both style and functionality. Whether you're walking the streets of Amsterdam or at a formal occasion, our sneakers fit perfectly.
How ETQ redefines the definition of luxury in sneakers
Luxury is more than just a price tag or a brand name. For us at ETQ, luxury means the convergence of craftsmanship, quality and design. Our men's sneakers are a perfect example of this philosophy in action.
When people think of luxury sneakers, they often think of flashy logos and expensive materials. But true luxury is in the details that you may not immediately see, but feel with every step.
The materials define the luxury
The choice of materials, such as full-grain leather, suede and nappa, plays a crucial role in creating a luxurious feel. These materials are not only durable, but also feel rich and premium. They form the basis of our luxury trainers and provide an unparalleled wearing experience.
Craftsmanship is key
Each ETQ sneaker is handmade by real artisans in Portugal. This level of craftsmanship ensures that every men's sneaker meets our high quality standards and can stand the test of time.
Design that speaks
Our minimalist design emphasizes the quality of the materials and craftsmanship. By omitting unnecessary details, we create a sneaker that is both stylish and functional. A trainer that really exudes luxury, without being flashy.
The influence of Amsterdam elegance on ETQ sneaker designs
Amsterdam, with its rich history and unique style, has always had a special place in the heart of our brand. The city offers a perfect mix of historic charm and modern innovation, and this is clearly reflected in our sneaker designs.
The canals, architecture and vibrant culture of Amsterdam are a constant source of inspiration. But it's the Amsterdam approach to fashion - uncomplicated, stylish yet functional - that really shines through in our men's trainers.
Amsterdam simplicity meets world-class design
Just as Amsterdam is a melting pot of cultures and styles, our sneakers combine the best of different worlds. The simple elegance of the city is reflected in our minimalist designs, while the quality and craftsmanship are world class.
Fashion that embodies the spirit of the city
Walking through the streets of Amsterdam, you see a city that is both historic and modern. Our sneakers are designed to reflect that same balance. They are timeless, yet modern; classic, yet contemporary.
From the canals to the catwalk
Our connection to Amsterdam goes beyond inspiration. Our studio and workshop are located in the heart of the city. Here we combine the Amsterdam aesthetic with the latest fashion trends to create sneakers that are truly unique.
The perfect fit - What makes an ETQ sneaker comfortable
Comfort is an essential part of any trainer. At ETQ, we believe that a smart sneaker, no matter how stylish, misses its mark if it's not comfortable. That's why we pay special attention to creating the perfect fit for our men's sneakers.
But what makes a sneaker comfortable? It's not just about the pillow under your feet. It's about the overall design, materials and construction working together to provide a seamless experience.
Materials that mold to your foot
The choice of high-quality materials such as full-grain leather, suede and nappa ensures that our sneakers mold to your foot and not the other way around. These materials are breathable, flexible and conform to the shape of your foot, making them even more comfortable over time.
Construction that supports every step
The way a sneaker is constructed can make the difference between a day of comfort or a day of pain. Our athletic trainers for men are carefully designed with supportive soles and a balanced weight distribution, so your feet will still feel fresh even after hours of wear.
Design that works
Our minimalist design is not only aesthetically pleasing, but also functional. The clean lines and simple design create a sneaker that hugs your foot without unnecessary pressure points, adding to the overall comfort.
The choice of full-grain leather, suede and nappa in sneaker design
The materials we choose for our sneakers are not chosen randomly. They are the result of careful consideration and a commitment to quality. At ETQ, we believe that the choice of materials plays a vital role in both the look and feel of our sneakers for men.
Full grain leather: the king of durability
Full grain leather is known for its strength and durability. It is the top part of the skin and contains all natural grains. This not only makes it robust, but also gives it a natural texture that becomes more beautiful with time. Our choice of full-grain leather ensures that our smart sneakers last a long time and develop a unique character over time.
Suede: soft and stylish
Suede, with its soft and velvety texture, adds a touch of luxury to our sporty trainers. It is flexible, breathable and has a unique look that can be both casual and formal. It is a material that effortlessly combines style and comfort.
Nappa: the epitome of luxury
Nappa is known for its softness and suppleness. It is a type of full-grain leather that has been specially treated to make it extra soft. The result is a luxurious feel and smooth finish, giving our sneakers a premium look.
Materials that tell a story
Each material we choose has its own story and character. Together they form a harmonious whole that reflects the essence of ETQ: quality, style and craftsmanship.
The impact of material choice on sneaker sustainability
The durability of a sneaker is not only defined by the way it is made, but also by the materials used. At ETQ we fully understand this and that is why we only choose the best materials for our men's sneakers.
Why choice of material matters
The materials we choose for our sneakers are not only meant to look good, but also to last. A trainer made of high-quality materials can stand the test of time, both in terms of appearance and functionality.
Full grain leather: a choice for durability
Full grain leather is not only strong and durable, but it also has the ability to improve over time. Instead of deteriorating, it develops a rich patina that enhances the sneaker's character and beauty.
The advantages of suede and nappa
In addition to full-grain leather, suede and nappa also add to the durability of our sneakers. They are flexible and resistant to abrasion, which means they retain their shape even after prolonged use.
Investing in quality
By investing in the best materials, we ensure that our smart luxury trainers are not only stylish, but also durable. It's our way of taking care of our customers and the planet.
The evolution of leather trainers in the fashion world
The world of fashion is constantly changing, but one thing remains consistent: the timeless appeal of leather sneakers. At ETQ we have experienced this evolution up close and have adapted our men's sneakers to the changing times without losing our core values.
From sports field to catwalk
Leather sneakers started life on the sports fields, but it wasn't long before they found their way to the streets and eventually the catwalks. Their versatility and comfort have made them a favorite choice for athletes and fashionistas alike.
ETQ's approach to evolution
As the fashion world changed, so did we. We've tweaked our designs while staying true to our minimalist aesthetic and focus on quality. Our smart men's sneakers are a tribute to the past, but are designed for the modern man.
The timeless appeal of leather
Leather has a unique quality that sets it apart from other materials. It is durable, stylish and gets more beautiful with age. At ETQ, we choose only the best leather for our sneakers, making them an investment that will stand the test of time.
The future of leather sneakers
While the fashion world continues to evolve, we believe that leather sneakers will always be relevant. They are a symbol of style, comfort and craftsmanship, and that will never change.
White men's sneakers: a timeless classic
When it comes to style and versatility, white sneakers for men are at the top of the list. These shoes have the unique capacity to elevate any outfit, from casual to formal. At ETQ we understand the appeal of white trainers and have perfected them for the modern man.
Why white sneakers are a must-have
White sneakers exude a certain elegance and simplicity that is hard to match. They are a blank canvas that can complement any look, be it a summer outfit or a dressier ensemble. Our white sneakers for men are not only stylish, but also functional and durable.
ETQ's approach to white trainers
We've reinterpreted the classic white sneaker, with a focus on minimalist design and premium materials. Our white smart men trainers are not just a pair of shoes; they are a statement of our commitment to quality and style.
Styling tips for white sneakers
White sneakers are versatile and can be styled in different ways. Whether you combine them with jeans for a casual look or with a suit for a chic look, they always add a touch of class to your outfit.
The importance of maintenance
To ensure that your white sneakers always look their best, regular maintenance is essential. A simple cleaning routine can help keep them looking fresh and new.
Style tips for wearing ETQ's minimalist leather sneakers
ETQ's minimalist leather sneakers are more than just shoes; they are an extension of your personal style. They combine the best of luxury and functionality and can be worn both casual and formal. But how do you get the best out of your ETQ sneakers? Here are some style tips to get you on your way
The power of simplicity
Our sneakers are designed with a minimalist aesthetic, which means they work best when paired with simple, clean outfits. Think plain T-shirts, tight jeans or chinos and minimalistic accessories. Let the sneakers be the centerpiece of your outfit.
Combine with formal clothes
Who says sneakers can't be formal? Our leather trainers for men can be perfectly combined with a suit or smart trousers. It's all about balance. Make sure your suit is modern and well cut, and avoid too many accessories.
Seasonal style tips
In the summer, our sneakers can be combined with shorts and linen shirts for a fresh, airy look. In the colder months they work well with dark jeans, a sweater and an overcoat.
The finishing touches
Accessories can make or break an outfit. Opt for minimalist watches, belts and bags that complement the sneaker aesthetic. Remember: less is more.
Maintenance tips for maintaining leather sneakers
Investing in a pair of ETQ leather sneakers means that you opt for quality and durability. But as with all luxury items, they require proper care to maintain their beauty and functionality. Here are some essential care tips to keep your sneakers always looking their best.
Regular cleaning
Dust and dirt can damage the leather and shorten the life of your sneakers. Make it a habit to regularly clean your sporty pair of trainers with a soft brush. For stubborn stains, you can use a damp cloth and mild soap.
Leather Conditioner
Leather is a natural material that can dry out and crack. Use a quality leather conditioner every few months to keep the leather supple and hydrated.
Sneaker cleaning kit
For cleaning and maintaining your sneakers, ETQ offers a 5-piece Deluxe Sneaker Cleaning Kit.
Avoid water and moisture
While our leather sneakers offer some resistance to water, it is important to protect them from prolonged exposure to moisture. If they get wet, let them dry naturally and avoid direct heat sources.
Storage
When you're not wearing your sneakers, store them in a cool, dry place and avoid direct sunlight. Use shoe trees to maintain the shape of the sneakers.
Periodic replacement of soles
The soles of your sneakers can wear out over time. Consider replacing them periodically to maintain comfort and support.
FAQ: Frequently Asked Questions About Men's Sneakers
In this section we answer some of the most frequently asked questions about men's sneakers. These answers are intended to help you better understand the world of sneakers and guide you in making the best choice.
What are the best sneakers for men?
The best sneakers for men combine comfort, durability and style. They are made of high-quality materials and have a design that is both fashionable and timeless.
What are the most popular sneakers?
White sneakers made of leather are the most popular. In general, when it comes to sneakers, timeless designs, quality materials and comfort are always in demand.
Which sneakers are good?
Good sneakers offer support, are made of durable materials and have a stylish design. They must also fit well and be suitable for the intended activity.
What is a sneaker shoe?
A sneaker is a shoe designed for both sporting activities and casual wear. They are often lightweight, comfortable and have a rubber sole.
| | | | |
| --- | --- | --- | --- |
| EU | US | UK | CM |
| 36 | 3 | 2 | 23.8 |
| 37 | 4 | 3 | 24.4 |
| 38 | 5 | 4 | 25.1 |
| 39 | 6 | 5 | 25.7 |
| 40 | 7 | 6 | 26.4 |
| 41 | 8 | 7 | 27.0 |
| 42 | 9 | 8 | 27.7 |
| 43 | 10 | 9 | 28.3 |
| 44 | 11 | 10 | 28.9 |
| 45 | 12 | 11 | 29.6 |
| 46 | 13 | 12 | 30.2 |
| 47 | 14 | 13 | 30.9 |
How to measure
Let's find your perfect fit. Place a sheet of paper on the floor against the wall and put your feet (with socks) on it, heels against the wall. Make sure you lean on your feet with full power when measuring. Now you simply draw a line at the end of the biggest foot. Measure the distance with a ruler and find the size that matches it: see size table. Are you in between sizes? In that case, we suggest taking the bigger size.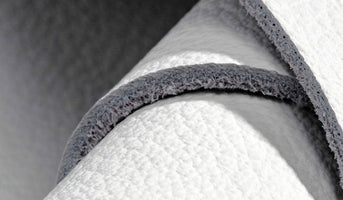 Mediterranean Suede
Refined in style, matt in color. The ultra-soft suede leather is sanded and feels velvety soft. It is crafted from the inside layer of the leather hide. ETQ's suedes are always characteristic. 

Premium Suede
Experience unparalleled luxury with our Premium Suede collection. Crafted from the finest, most luxurious suede available. We've meticulously selected the highest quality suede. Each step feels like a caress, thanks to the unmatched softness and exceptional craftsmanship. Our Premium Suede shoes redefine what it means to walk in ultimate comfort.
Nappa Leather
Indulge in the epitome of luxurious comfort with our Premium Nappa Leather collection. Renowned for its buttery-soft texture and distinct natural grain, Nappa leather offers an unmatched tactile experience. Crafted with meticulous care, this leather remains unaltered by sanding, ensuring its strength and integrity are preserved. Each step you take in our Premium Nappa leather shoes is a testament to our dedication to exceptional craftsmanship. Walk with confidence, knowing that the unique structure of Nappa leather speaks to the unparalleled quality and sophistication of your choice.
Nubuck Leather
Premium nubuck: best of the best. Exclusive leather that we sanded rough on the outside grain part of the hide, giving it a velvety butter soft surface. It offers utmost suppleness. The leather is metal-free, biodegradable and has excellent breathability.
Full Grain Leather
Our commitment to excellence is embodied in our Full Grain Leather collection. Uncompromising in quality, this leather remains untouched by sanding, buffing, or snuffing, preserving its natural strength and integrity. Just like the intricate patterns on your own skin, the grains on our Full Grain Leather are a testament to its authenticity. Immerse yourself in the richness of Full Grain Leather – a testament to the artistry of leather craftsmanship.